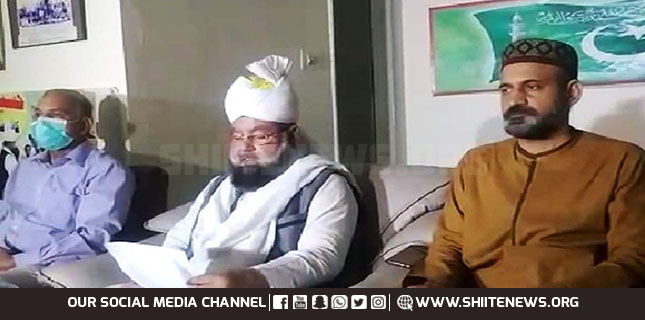 Sunni party JUP also rejects Tahaffuz-e-Bunyad-e-Islam Act Punjab as unnecessary and divisive.
In this regard, Jamiat Ulma Pakistan Sunni leader Pir Masoom Hussain Shah Naqvi chaired an online meeting.
Sunni party JUP also rejects Tahaffuz-e-Bunyad-e-Islam Act
During the virtual meeting of the JUP-Niazi working committee, they expressed concern over controversial and divisive Tahaffuz-e-Bunyad-e-Islam Act Punjab.
Pir Masoom called for Sunni-Shia Islamic unity in Pakistan and asked scholars and communities to demonstrate patience.
He cited that Sunni Brailvi leaders Abdul Sattar Niazi and Shah Ahmed Noorani preached tolerance of opposite side's beliefs.
He said Allama Niazi and Allama Noorani directed their followers to act upon their creed and don't meddle into others creed.
The JUP leader recognized both Sunni and Shia Islamic school of thought who have lived together acting upon their respective creed.
He said both Sunni and Shia Muslims remained together in the joint struggle for establishment of Pakistan.
Hence, he urged that both sides should continue to follow that trend and preach unity and fraternity.
Pir Masoom urged that nobody should impose their beliefs upon others.
He alerted that enemies may take advantage of current tension because Jewish Lobby and Qadianis (Ahmadis) are pleased to see current division among us.
Shia Islamic parties and scholar have already rejected aforesaid controversial Act violative o the Constitution of Pakistan.