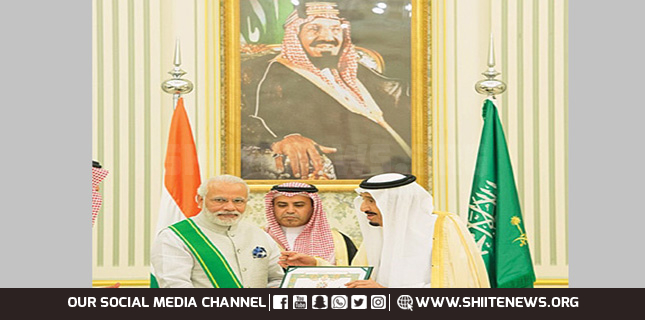 How India wins Kashmir and who make Pakistan loser, it remains an open secret for all Pakistanis with average wisdom and insight.
Once again, The DG ISPR claims that Pakistan responded to Indian firing effectively at LoC (Line of Control) on Wednesday.
How India wins Kashmir and who make Pakistan loser
Director General (DG) Inter Services Public Relations (ISPR) said this in a tweet.
He said that Indian Army troops initiated unprovoked ceasefire violation.
He accused India of deliberately targeting civil population in Rakhchikri Sector along the Line of Control.
Furthermore, the tweet claims injuries of 3 innocent civilians including 2 women, residents of Akhori village due to Indian firing.
Lies Vs. Facts
Ludicrously, Pakistan claims that GCC countries are supporting Pakistan on Kashmir issue but Saudi Arabia, UAE and Bahrain have honoured Indian Prime Minister Narendra Modi with their highest national wards.
And Indian PM Modi received these highest UAE and Bahrain national awards on August 24 and 25, 2019 after making disputed Kashmir as integral part of India.
Saudi King Salman gave Indian PM Narendra Modi the highest Saudi King Abdul Aziz Award on April03, 2016.
Despite that, retired army chief of Pakistan General Raheel Shairf became Saudi employee in Saudi-led military alliance in 2017 while Saudi-led coalition is bombing Yemen.
Ironically, UAE Minister for Foreign Affairs and International Cooperation Sheikh Abdullah Bin Zayed Bin Sultan Al Nahyan had said that Pakistan and India should not make the Indian Held Kashmir (IHK) an issue of the Muslim Ummah. He called it a dispute between the two countries.
Even retired army chief Raheel Sharif has not quit his Saudi employment and continue to serve Saudi-led divisive group.
How India wins Kashmir and who make Pakistan loser
Hence, many in Pakistan believe that Saudi Arabia, UAE and Bahrain have guaranteed their all out support to India if India breaks off relations with Iran.
These Pakistanis say Indian Prime Minister Modi is gradually moving in that direction which US, Saudi Arabia and UAE taught him and in return he gets everything he demands, including disputed Kashmir.
It seems war of words which Pakistani regimes is waging against India make no sense because disputed Kashmir has become integral part of India.
And U.S.-led alliance of Saudi-UAE-Bahrain take side of India.  Israel illegally occupied Jerusalem and U.S. recognised Israeli claim. Now, the U.S. has sided with India against Pakistan.
Thank You, General Raheel Sharif, you made it easy for all. And now those extremist clerics who enjoy government posts and perks have been assigned to divert attention from these deviance and failure of the regime through controversial and divisive Tahaffuz-e-Bunyad-e-Islam Act Punjab.
Saudi Indian nexus win
Saudi Wahhabi monarchy and Modi-led Indian regime have emerged as ultimate winner of this plot. Pakistan and Pakistani nation are the ultimate losers.
From assassination of Iranian diplomats and cadets in Lahore, Multan and Islamabad to terrorist attack on GHQ Rawalpindi in 2009, terrorists belong to same sect and ideology.
How India wins Kashmir and who make Pakistan loser, who know better than Pakistani nation. The security establishment led efforts resulted into a Paigham-e-Pakistan document.
The Paigham-e-Pakistan document aimed at defeating fanaticism and violent extremism.  But, banned terror outfit's Muavia Azam and Chaudhry Pervaiz Ilahi together with Tahir Ashrafi drafted an anti-Islam and anti-Pakistan bill in the guise of Tahaffuz-e-Bunyad-e-Islam Act.
Why Ch Pervaiz Ilahi, Muavia Azam and Tahir Ashrafi have violated Constitution of Pakistan and Paigham-e-Pakistan document? Security establishment should probe who dictated them to impose this divisive and controversial bill. India or Saudi Arabia; or both!.?