Middle East
Syrian Army Repels Terrorists Massive Attack, Kills 70 Militants in Hama Province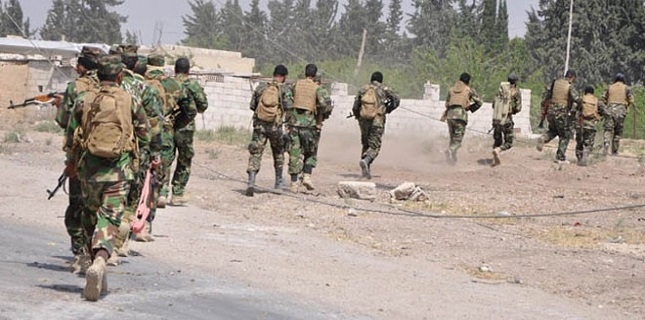 The Syrian army repulsed a massive attack by the terrorists of Jeish al-Fatah, Jund al-Aqsa and Ahrar al-Sham on Karah and al-Zaghba villages in the Northern parts of Hama province, killing tens of militants.
According to a military source, pro-government forces killed at least 70 Takfiri militants and wounded tens of others and destroyed their weapons and ammunition.
Earlier, the Syrian Air Force destroyed terrorists' positions, gathering centers, a number of tanks and tens of vehicles in Atshan, Zour al-Tibeh, Ma'ardes, Eneiz, al-Kabbariyeh, Tal al-Zaatar and Qbeibat Abu al-Huda in Hama province, the source added.
On Wednesday, the Syrian army soldiers pushed the terrorist groups back from more positions in Northeastern Hama and captured a small but key town in the region.
Syrian army men inflicted major losses and casualties on the militants and seized back al-Talisiyeh. Tough battle is underway between the Syrian military forces and militants in the town of al-Sha'aseh.
Earlier reports said that Syrian Army troops and the country's fighter jets stormed terrorists' positions in Southern Idlib and Northern Hama, destroying at least 13 tanks and armored vehicles.
The army soldiers, backed up by warplanes, targeted the terrorists' defense lines in Ma'an, Taybat al-Imam, Morek, Tal Bazam and Ma'ardes.
Meantime, Syrian government forces and warplanes stormed the terrorist groups' strongholds in Ba'arbou, al-Tamanna, Khan Sheikhoun and Ma'arat al-Nu'aman.
Three tanks, four armored vehicles and six machinegun-equipped vehicles were destroyed and a number of terrorists were killed or wounded in the attacks in Idlib and Hama, FNA reported.