Middle East
Chechen, Uzbek, Chinese Terrorists Fighting against Syrian Gov't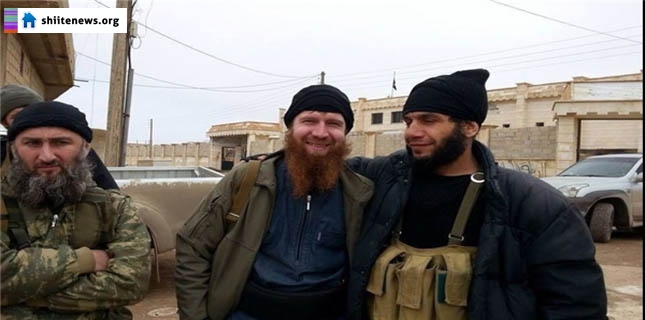 The Syrian Army forces fighting terrorists in Aleppo said that most of the militants who carry out terrorist operations against the Damascus government in the Arab country are foreign nationals, including Chechens, Uzbeks, Chinese, Tunisians and Egyptians.
The forces said said that Chechens comprise a majority of the 'Katibeh Seifollah Checheni' terrorist group that are fighting against the Syrian government in Aleppo.
Meantime, most of the members and commanders of the 'Al-Nusra Front' fighting in Aleppo are from Egypt and Tunisia, they added.
Also Chinese nationals are members of the 'Eastern Turkistan Freedom Movement' that also fights against the Syrian government in Aleppo.
The 'Towhid and Jihad Katibeh' terrorist group comprises of Uzbek nationals, and the 'Sham Soldiers' terrorist group is formed of Caucasians.
'Ansar and Mohajerin Army' Takfiri terrorist groups comprise of non-Syrians, specially Egyptians and Tunisians, the army forces added.
In October, Tajik Interior Minister Ramadan Rahimzadeh announced that more than 200 Tajik nationals are taking part in the fight in Syria on the side of the foreign-backed militants.
Rahimzadeh said the republic's law enforcement agencies have arrested 19 people on charges of participating in a criminal association, recruiting, training and financing mercenaries and other crimes.
"Besides, another 10 local residents were detained in Tajikistan's Sughd Region. They were trying to go to Syria via third countries to take part in combat activities against the army of (President) Bashar Assad," he stressed.
The Tajik authorities deny that banned religious-extremist and terrorist organizations exist in the country. But according to Tajik special services' data, since the beginning of the year, over 180 people have been detained on suspicion and charges of taking part in banned extremist parties and movements.
Earlier, Tajikistan prohibited the activity of such organizations as Hizb ut-Tahrir, Turkestan Islamic Movement, Ansarullah, Tablighi Jamaat and Gruppa24.
Syria has been experiencing unrest since March 2011 with organized attacks by well-armed gangs and terrorists against both the army and civilians.
The unrest, which took in terrorist groups from across Europe, the Middle-East and North Africa, has transpired as one of the bloodiest conflicts in recent history.
As the foreign-backed insurgency in Syria continues without an end in sight, the US government has boosted its political and military support to Takfiri extremists.