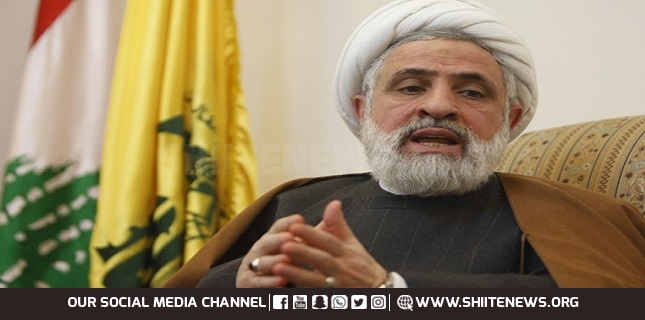 Hezbollah Deputy Secretary General Sheikh Naim Qassem stressed that Hezbollah victory in 2006 war has imposed a balance of deterrence on the Israeli enemy and prevented it from attacking Lebanon upon its decision.
In an interview with Al-Manar TV Channel, Sheikh Qassem indicated that Israel can no longer impose the naturalization of the Palestinian refugees in Lebanon whose power has been sustained by the Army-People-Resistance formula.
Sheikh Qassem added that Hezbollah victory in 2006 has inspired the Palestinian resistance factions, citing the battles in which emerged victorious over the Israeli enemy.
His eminence stressed that Hezbollah supports PM-designate Najib Mikati to form the new government because it aims at addressing the ongoing crisis in Lebanon and preventing any plot to stir the sectarian sedition in Lebanon, adding that Mikati is capable of securing an international support.
Sheikh Qassem called on President Michel Aoun and PM-designate Mikati to make mutual concessions in order to reach the cabinet formation, underling the government role in coping with the socioeconomic deterioration in Lebanon.
Sheikh Qassem also stressed that the US blockade policy contributes mainly to the commodity supply shortage, stressing that the state apparatuses must prevent the cases of monopoly and try the corrupts.
Regarding Beirut blast file, Sheikh Qassem highlighting the importance of following the legal procedures in the investigations in order to halt the ongoing politicization, reiterating Hezbollah call on the investigator to unveil the cause of the explosion and the identity of the culprits involved in bringing the explosive material (ammonium nitrate).