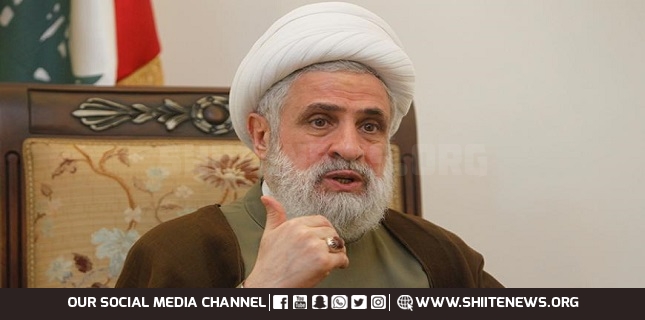 Hezbollah Deputy Secretary General Sheikh Naim Qassem stressed that the governmental deadlock in Lebanon is caused by internal factors, adding that some parties resort to sectarianism in order achieve private gains at the expense of the nation.
Sheikh Qassem added that the socioeconomic crisis can no longer be tolerated, noting that prioritizing the sectarian norms and gains at the expense of the nation and the citizens can never lead to solution "which must be based on mutual concessions".
Addressing a ceremony held by the Muslim Scholars Assembly on Resistance and Liberation Day, Sheikh Qassem stressed that Hezbollah will continue accumulating power in order to face any Zionist aggression.
His eminence stressed that May 25 moved Lebanon from the state of weakness to that of might, adding that the Resistance weaponry will remain till the liberation of entire Palestine.
Sheikh Qassem warned against the Zionist plots to attack and occupy Lebanon, highlighting the role of the people-army-formula in frustrating all the enemy schemes.
Sheikh Naim Qassem indicated that Al-Quds Sword victory has paved the way to the ultimate victory in Palestine after the liberation in 2000 had consecrated that 'Israel' is weaker than the spider web.