Iraq
Jordan, Iraq set to reopen main border crossing after Daesh withdrawal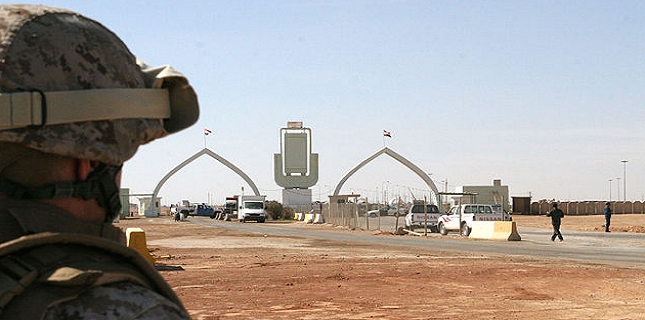 Jordan and Iraq are set to reopen their main border crossing after Iraqi forces recaptured a key highway connecting the two neighbors from Daesh Takfiri terrorists.
On Tuesday, the governments in Amman and Baghdad said the Tureibil post, also known as Karameh, will be reopened after the road was secured "from attacks and criminal gangs."
Officials said customs and border arrangements have been finalized between the two sides.
Several trade and business officials said they have been invited to the reopening ceremony on Wednesday.
Last week, Jordanian Interior Minister Ghaleb al Zubi pointed to the two countries' efforts to reopen the crossing, without providing exact details.
Security measures are in place to ensure the safety of the 550-kilometer highway from the border to Baghdad.
Iraqi troops pulled out of the Tureibil post in the summer of 2014 after Daesh terrorists captured Iraq's Anbar Province. Commercial traffic continued for a year, during which Daesh terrorists forced truck drivers to pay tax on their cargoes coming from Jordan.
The route was completely closed in 2015 after Iraqi forces launched an offensive to purge Anbar Province of the Takfiri militants.
Over the past two years, Jordanian exporters had to turn to more expensive sea routes to Iraq's Um Qasr port or another land route across Saudi Arabia and Kuwait.
Meanwhile, Iraq has also sought to restore security to a highway that connects Iraq's Basra port in the south to Jordan.
According to a senior Western diplomat, the Iraqi authorities have awarded a contract to a US security company to provide security for the highway.
Iraq is Jordan's main export market which receives almost a fifth of the country's exports. The amount of exports, valued $1.2 billion annually before the crisis, has currently fallen by over 50 percent.
The restoration of trade links will also lay the groundwork for reviving a frozen oil pipeline project running from Basra to Aqaba.
The prolonged conflicts in Syria and Iraq have inflicted heavy losses on Jordan's economy and the country hopes to restore economic growth by reopening borders with its neighbors.
On Friday, Jordanian government spokesman Mohamed Momani expressed hope for reopening of border crossings with Syria, as the security situation in southern Syria across the border from Jordan is stabilizing.
Jordan is part of a coalition that allegedly fights Daesh in Iraq and Syria. The country has justified its presence in the US-led alliance as a way to block the spillover of the militancy from the two Arab countries that share long borders with Jordan.