Iran
Saudi anti-Hezbollah bids provocative, rash: Iran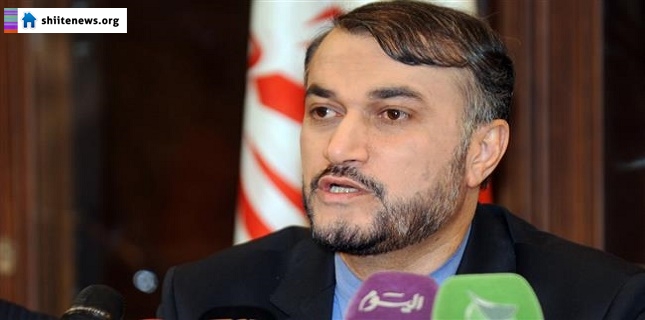 A senior Iranian official criticizes as "impulsive and provocative" the Saudi-led move by blocs of Arab states to brand Lebanon's resistance movement, Hezbollah, a terrorist organization.
"Saudi Arabia's anti-Hezbollah move is against peace, stability and security of Lebanon," Iranian Deputy Foreign Minister for Arab and African Affairs Hossein Amir-Abdollahian told Iranian national TV on Monday.
He added that Riyadh has been conducting "hasty and unbalanced" moves in the region over recent months.
The senior Iranian diplomat emphasized that the latest Saudi decision against Hezbollah comes while the "legitimate and important" group is instrumental in Lebanon and in the "fight against the Zionist regime [Israel] and terrorism in the region."
He said Hezbollah is a source of honor for the Muslim and Arab world and added that statements against the group would fail to have any influence on its power and position.
At a meeting of the Arab League's foreign ministers in Cairo on March 11, the group declared Hezbollah a terrorist organization. The measure was approved by a majority of the Arab League ministers except those from Lebanon and Iraq.
The decision came after the [Persian] Gulf Cooperation Council officially added Hezbollah to its so-called list of "terrorist" organizations on March 2. The [P]GCC comprises Saudi Arabia, Qatar, the United Arab Emirates, Oman, Bahrain and Kuwait.
The move by the six-nation Arab bloc came days after Riyadh halted USD 4bn in aid to Lebanese security forces. The decision came following recent victories by the Syrian army, backed by Hezbollah fighters, against Takfiri militants fighting to topple the Damascus government.
Algeria refused to classify the movement as a terrorist organization. Palestinian resistance movement, Islamic Jihad, also praised Hezbollah as a resistance movement, which has a history in the struggle against the Zionist entity as well as in supporting the Palestinian cause. Iran, Syria and Yemen's Houthi Ansarullah movement have also slammed the move by the [P]GCC.
Lashing out at Riyadh's aggressive stance toward Hezbollah, Sheikh Naim Qassem, the deputy secretary general of the resistance movement, said on Saturday that the Saudi regime is striving to affirm that Hezbollah is a terror group in "all the forums that allow it to make this move."
"It is putting pressure on others at the Arab foreign ministers meeting to do the same," he said during his address in the eastern city of Baalbek.
Hezbollah Secretary General Seyyed Hassan Nasrallah has said the Saudi regime seeks to instigate "strife" between Shias and Sunnis in the region, urging the Lebanese not to be intimidated by threats posed by Riyadh and Tel Aviv.