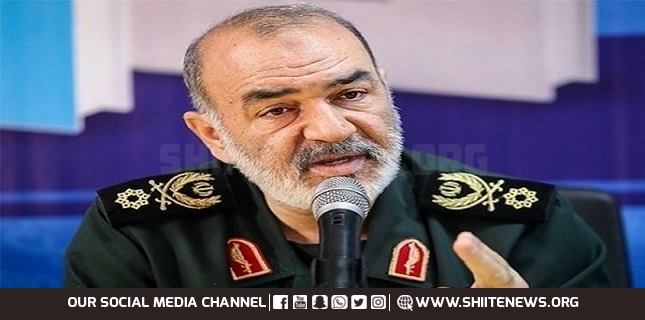 The chief commander of Iran's Islamic Revolution Guards Corps (IRGC) says the United States is stuck between two "evil" choices of staying in Yemen and facing defeat, or leaving the war and be stigmatized for fleeing.
"The enemy is caught between two evils. The [Islamic] Revolution has harnessed the enemy in such a way that if the enemy stays it should pay the price and if it leaves it has fled. The enemy will get shattered if it stays in Yemen, and it would be [deemed] fleeing if it leaves," Major General Hossein Salami said during a ceremony to mark commanders on Wednesday.
He said that the Americans have failed even in employing their tactics in wars irrespective of their state-of-the-art arms and weapons.
"The army which is [believed to be] the world's most modern army withdrew from Afghanistan so shamefully that it left behind most of its weapons," he noted.
The US has been providing logistical support and transferring spare parts to Saudi warplanes conducting air strikes against Yemen since the Riyadh-led military aggression against the impoverished country.
Last week, the US State Department approved a potential agreement covering up to $500 million in military support services for Saudi Arabia, and sent the agreement to Congress for review, the Pentagon said.
"This proposed sale will support US foreign policy and national security objectives by helping to improve the security of a friendly country that continues to be an important force for political stability and economic growth in the Middle East," the State Department said in a statement.
It was the first major military agreement for Saudi Arabia sent to Congress since Joe Biden took office on January 20.
This came although back in February, Biden announced he was ending US support for the war in Yemen, including "relevant arms sales."
"This war has to end," Biden declared at the time, adding that the conflict had created a "humanitarian and strategic catastrophe."
In a letter sent on Monday, more than 50 anti-war groups urged US lawmakers to use the annual defense policy bill to end American support for the Saudi-led coalition fighting in Yemen.
"By suspending the sale of arms and ending US participation in the Saudi coalition's war and blockade, Congress can prevent a humanitarian catastrophe from spiraling further out of control as it reasserts its constitutional authority on matters of war and peace," said the 56 organizations, including Codepink, Democracy for the Arab World Now and the Quincy Institute for Responsible Statecraft.
The protracted war, worsened by the Saudi siege, has seen hundreds of thousands of people killed, an estimated four million displaced, and roughly two-thirds of the war-ravaged country's population – about 20 million people – rely on humanitarian aid for their day-to-day needs.
During an August briefing to the UN Security Council, outgoing UN Special Envoy for Yemen Martin Griffiths issued a dire warning, stating that roughly five million people "are one step away from succumbing to famine and the diseases that go with it."
Meanwhile, the US is also facing harsh criticism for its chaotic, humiliating final retreat from its defeat in Afghanistan.
Last month, the US ended its longest war, which took two decades, ended in unfulfilled promises and cost thousands of lives and trillions of dollars.