Iran
We hope Saudi Arabia dual behavior ends: Iranian FM Spokesman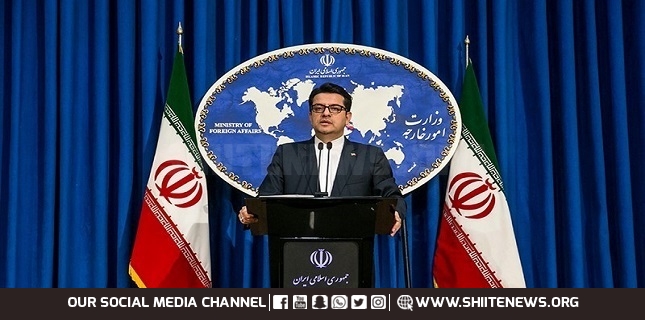 The Foreign Ministry spokesman has said Iran and Saudi Arabia have recently had talks on managing the Umrah Hajj pilgrimage and the two sides have not had talks on other issues.
"There are countries with goodwill that are trying to mediate in the negotiations between Iran and Saudi Arabia which is welcomed, but sometimes we see dual behaviour by Saudi Arabia. It does not comply with this good faith, and we hope that Saudi Arabia will end this dual behavior," Speaking at his weekly press conference, Foreign Ministry spokesman Sayyed Abbas Mousavi said.
"Iran has extended a friendly hand to the countries of the region, including Saudi Arabia, and we hope that Saudi Arabia will shake our hand to provide security for the region and know that inviting foreigners into the region and stockpiling weapons will not help the security of West Asia," Mousavi said.
Answering questions of correspondents in his weekly press conference, Mousavi referred to the recent elections in Britain and the victory of Prime Minister Boris Johnson, saying: "Britain is one of the member states of JCPOA (Joint Comprehensive Plan of Action) and has commitments to the Islamic Republic of Iran. Internal changes in their country should not affect their commitments. This is a decision that British people have made (referring to the recent elections) and we welcome it. But what concerns us is the commitments the British government has in JCPOA."
Mousavi then noted the double standards of human rights in the United States and added: "Americans have a long history of human rights abuses including their support of countries and regimes that kill children and women, economic terrorism and economic warfare, and splitting people of other countries. Americans are behind what is happening in Hong Kong."
He continued: "You see, even though the Americans say that medicine and food, for example, are not included in the list of sanctions, they are trying to prevent medicine and food from entering our country, yet claiming to support the Iranian people and human rights!"
Mousavi also referred to what happened recently to stem cell scientist Dr. Masoud Soleimani, saying: "Our advice to Iranian scientists is that even if they have invitations from the US and received their visas, they should not travel to this country and should act cautiously. They should also avoid traveling to other countries as well if they feel that their security may be endangered."
Ratification of FATF is to Iran's benefit: Spokesman
"The world and the Persian Gulf states know that these islands are Iranian, they belong to Iran." Mousavi said that noting recent Arab states' claims about the three islands of the Great Tunb, Little Tunb, and Abu Musa.
"It's not something we should talk about in negotiations," the spokesman added.
"We have designed bilateral mechanisms with different countries, and this is in the same direction, which can include all goods and services needed by the two countries," the spokesman said in response to a question about the implementation of the Swiss financial channel.
On the prisoner exchange with other countries, Mousavi said, "About 3,000 Iranians are in prisons abroad and about the same number of foreigners are in jail in Iran and there have been exchanges. We are ready to exchange, and as FM Zarif said, the ball is in their courts. We are ready to exchange if they and Switzerland, as a mediator, are ready."
About the current developments in Iraq, Mousavi said: "We hope that with the administrative changes and arrangements of Iraqi officials, authorities and political groups, stability and peace will return to a friendly and neighboring country".
"We believe that joining FATF is to Iran's benefit. I hope that the Expediency Council and other state organizations understand the situation. Our friendly states say that they won't be able to work with Iranian banks if the bill won't be ratified."
َAbbas Mousavi also commented on Italy's sanction of Mahan Airlines, saying: "We expect friendly countries to reject US unilateral and illegal sanctions and reconsider their decision."
Answering a question about a comprehensive agreement between Iran and Afghanistan, he said, "Afghanistan is involved in the elections and I hope to see the agreement signed in the near future."