Iran
Zarif Quotes US Brian Hook to Dismiss E3 Claims about Ballistic Missiles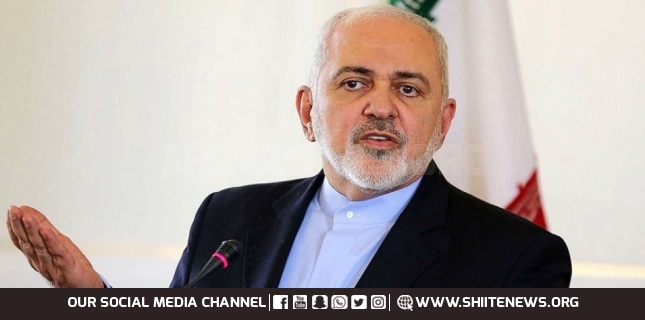 Iranian Foreign Minister Mohammad Javad Zarif, in a tweet on Friday, once again reminded the European signatories of the nuclear deal that Tehran's ballistic missiles are under no ban under the nuclear deal and UN Resolution 2231, reminding that US special representative for Iran Brian Hook has also admitted the fact.
"Brian Hook has given our E3 JCPOA partners a timely reminder, openly admitting that missile testing is NOT prohibited in Security Council Resolution 2231," tweeted Zarif, after the trio of Britain, France and Germany who make up the three European signatories of the nuclear deal, officially known as the Joint Comprehensive Plan of Action (JCPOA), forwarded a letter to United Nations Secretary-General Antonio Guterres.
The trio made the allegation that Iran's ballistic missile activity is "inconsistent" with the call in a council resolution endorsing the 2015 nuclear deal with Iran. quoting Hook as saying, "One of the deficiencies of the Iran nuclear deal is that it ENDED the prohibition on Iran's ballistic missile testing."
In a tweet on Thursday, Zarif wrote, "Latest E3 letter to UNSG on missiles is a desperate falsehood to cover up their miserable incompetence in fulfilling bare minimum of their own JCPOA obligations."
"If E3 want a modicum of global credibility, they can begin by exerting sovereignty rather than bowing to US bullying," Zarif stressed.
The Iranian diplomat capped off his tweet with an image of two UNSC resolutions, with the Resolution 1929 on banning Iran's ballistic activities stamped as 'terminated', and Resolution 2231, still endorsed, outlining the termination of Resolution 1929 in 2010, under Article 41 of UN Charter.
Iran has several times stressed that its missile program is not included in the resolution 2231.
Iranian Ambassador to the United Nations Majid Takht Ravanchi underlined in May the defensive nature of Iran's missile activities, saying that UN Security Council Resolution 2231 was not related to Tehran's missile program.
Iran's missile program is a national defense issue which is non-negotiable and never contradicts with the UN Security Council Resolution 2231, Takht Ravanchi told said in an interview with the state TV.
He referred to the US attempts to raise allegations that Iran is violating the UN Resolution 2231, and said that one of the officials at the US State Department conferred with members of the UNSC about Iran's ballistic missile activities.
They are trying to create a negative atmosphere against Iran's missile activities, Takht Ravanchi said.
Positions of the Islamic Republic of Iran are very clear in a way that Iran's missile programs are not included within the framework of UNSC Resolution 2231 at all, he emphasized.
"Iran's peaceful nuclear activities have been confirmed by the International Atomic Energy Agency (IAEA) for 14 times as well," the senior diplomat said.