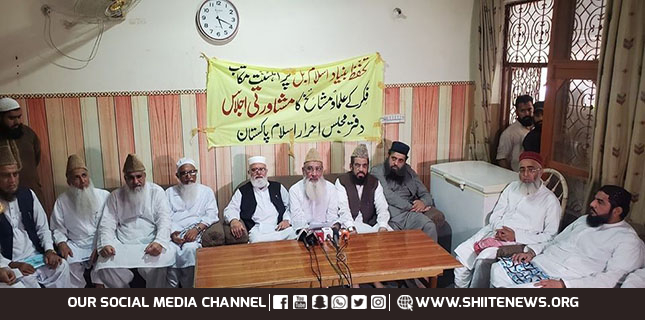 Supporters of UNSC sanctioned Al Rashid Trust resurface for Shia genocide in Pakistan. This time, they have rallied support from other clerics and even mainstream political parties' leaders.
Aforesaid extremist clerics join hands with Punjab Assembly speaker Chaudhry Pervaiz Ilahi.
Supporters of UNSC sanctioned Al Rashid Trust resurface
They are playing a dirty game to advance ideological interests of al-Qaida and Al Rashid Trust and al Akhtar Trust.
Dawn reported that clerics belonging to various Sunni schools of thought met in Lahore on Sunday to decide the future line of action for ensuring implementation of dubious Tahaffuz Bunyad-e-Islam bill.
Deobandi Zahidur Rashidi, Liaquat Baloch, Dr Fareed Paracha, outlawed Lashkar-e-Jhangvi (ASWJ) ringleader Muhammad Ahmed Ludhianvi, Syed Kafeel Bukhari, Hafiz Abdul Gaffar Ropri, Ilyas Chinioti, self-claimed Brailvi Qari Zawwar Bahadur, Ahle Hadees Hafiz Ibtisam Elahi Zaheer, Hafiz Asad Ubaid and others.
Pro-terrorism Jamiat Ulema Islam (Samiul Haq) general secretary Abdur Rauf Farooqi hosted the sitting. However, they also used the name of Majlis Ahrar Pakistan as the host.
Liaquat Baloch should ponder
As a matter of fact, Deobandi and Brailvi clerics have already condemned Liaquat Baloch's party founder Syed Abul Aala Moudoodi as deviant/heretic.
Because, Deobandi Jamaat-e-Islami founder leader Mr Moudoodi had authored a book Khilafat wa Malookiyat (Caliphate and Monarchy).
According to Mr. Moudoodi monarchy in Islamic history began with Muavia. He wrote people had not elected Muavia as caliph (ruler) but he became caliph on his own through use of force and battle.
The entire book is full of the narration or remarks which aforesaid clerics consider violation of Sunni sanctities. Therefore, independent analysts reject Lahore sitting narrative, while citing intra-Sunni huge difference of opinion on numerous issues.
Lahore sitting host Molvi Abdul Rauf belongs to JUIS and both he and his party also remained loyal to veteran Deobandi cleric Mufti Rasheed Ludhianvi.
Mufti Rashid Ludhianvi had founded notorious Al Rashid Trust. Interestingly, Mufti Rasheed (Rashid) Ludhianvi had authored a booklet titled "Moudoodi Aur Islam" to declare Moudoodi heretic.
UNSC imposed sanctions on pro-JUIS Al Rashid Trust
Notably, United Nations Security Council (UNSC) also imposed sanctions on pro-JUIS Al Rashid Trust in line with Al-Qaida Sanctions List.
Now, the notorious global terrorists have resurfaced in the guise of dubious Tahaffuz-e-Bunyad-e-Islam legislation.
They are fanning violent extremism against Shia Muslim citizens of Pakistan. They have threatened to impose their sectarian beliefs upon opponent Pakistani citizens in Punjab province.
Surprisingly, Jamaat-e-Islami of Syed Moudoodi has taken a line against the ideology of its founder leader who himself criticised some companions of Prophet Mohammad (PBUH) in the book Khilafat wa Malookiyat.
Plot of pro-terrorism clerics
Pro-terrorism clerics want to make them relevant and enhance their clout on the pretext of the controversial bill. Under that organized plot, they want to subdue Pakistani citizens through use of threats or force to convert to the ideology of aforesaid so-called Sunni Deobandi Brailvi and Wahhabi clerics.
Proponents of literature, Constitution and religious rights have come out against this new group of thugs and hypocrites.
They say cleric Ludhianvi leads outlawed Sipah Sahaba, mother wing of outlawed Lashkar-e-Jhangvi who worked as Pakistani franchise of al-Qaida. The aforesaid group of sectarian thugs also include him.
Hence, they urged international community, UNSC and rights organisations to take notice of these pro Saudi clerics who want to hold Pakistan hostage.
They point out that Muavia Azam son of outlawed Sipah Sahaba (LeJ) ringleader Azam Tariq is behind the scene architect of this bill, while Chaudhry Pervaiz Ilahi has made an alliance with them in greed beacsue he wants to become Chief Minister Punjab.
Constitution of Pakistan's article 227 is known as Islamic article which guarantees all citizens their religious rights.
But aforesaid clerics who claim them belong to all Sunni schools of thought want to impose their interpretation of sanctities on other Pakistanis which violates Constitutional rights of other Muslim and non-Muslim Pakistanis.
Pro-ASWJ Qari Zawar Bahadur threaten to attack Moharram azadari mourning processions. That shows they all have joined hands for new wave of Shia genocide in Pakistan. State authorities have not taken concrete action to save Pakistanis from these thugs who continue to threaten Shia genocide.
Ironically, Qari Zawar Bahadur himself is supporting the blasphemer cleric Ashraf Jalali even though the latter desecrated sanctity of Bibi Fatima Zahra (AS).
Hence, using the issue of Sunni sanctities for self-interests is nothing but hypocrisy and double standards.