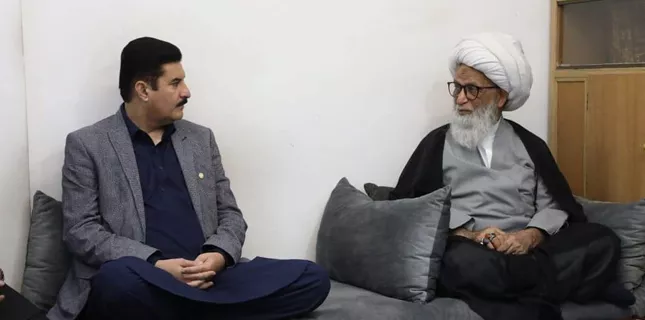 Shiite News: Minister of State for Poverty Alleviation and Social Safety and Secretary Information of Pakistan Peoples Party Faisal Karim Kundi met with Ayatullah Hafiz Bashir Hussain Najafi in his office in Najaf Ashraf.
In this meeting, Ayatullah Hafiz Bashir Hussain Najafi said that Pakistan is a great blessing, the protection of Pakistan and Pakistanis is your responsibility and the service of Pakistanis is the service of Pakistan. Therefore, facilitating the affairs of Pakistanis should be your first priority.
Ayatullah Hafiz Bashir Hussain Najafi expressed his concern about the increasing poverty in Pakistan and said that there is a need to take such measures in Pakistan at this time which will reduce the level of poverty.
He said that extreme measures are needed to reduce the poverty of poor and helpless women in Pakistan so that their chastity are protected and they can lead a dignified life.
On the other hand, the Minister of State informed in detail about the government's measures to reduce the poverty rate in Pakistan.
His Highness praised the steps taken to serve the poor and prayed for more blessings. At the end, the Minister of State thanked for giving his valuable time.