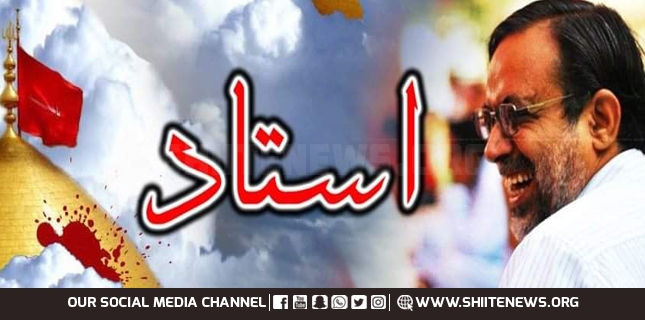 Shiite News: 10 years have passed since the martyrdom of Shaheed Ustad Sibte Jafar Zaidi, the loved ones of the martyr are still keeping the memory of the Ustad alive in their hearts in the form of his soulful voice.
The martyrdom day of ustad Sibte Jaffar was a tragic day for nation of Jafariya in Pakistan, in this year hundreds of Shia scholars, youths, doctors, businessmen and teachers were brutally martyred by Takfiri Wahhabi terrorists.
The tenth anniversary of the internationally renowned Souz Kawan and the poet Ahl al-Bayt (AS) martyred Ustad Sibte Jafar Zaidi, who was martyred as a result of the firing of Takfiri terrorists, is being observed with devotion and respect.
Martyr Ustad was killed in an attack by Takfiri terrorists on March 18, 2013.
Martyr is considered to be one of the founders of Urdu elegy, as well as a great poet of Ahl al-Bayt (A.S.) who spent his entire life.
He trained thousands of manqabat khawan and poets including poets who will continue to serve.
Martyr Ustad was a government employee of Grade 20, associated with the teaching sector, he was martyred by the brutal terrorists of the outlawed Sipah Sahaba/Lashkar Jhangvi when he was leaving his Liaquatabad-based college after performing his duties, while he was going home on a motorcycle.
Personalities like Shaheed Ustad Sabt Jafar Zaidi are born after centuries, the ferocious terrorists have taken away that rare gem from this country and people, which may never be replaced, despite the passage of ten years, the state and law enforcers are still Institutions seem to be unable to bring the killers of this great martyr to justice.