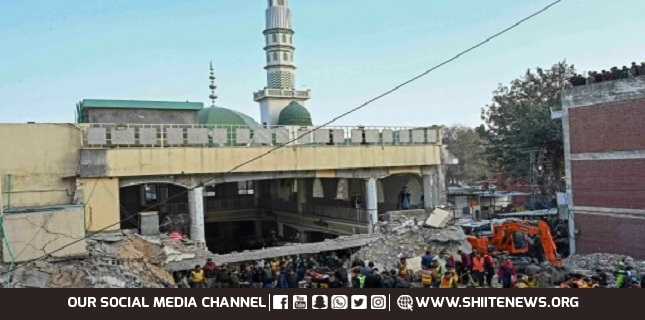 Shiite News: Fifty people were martyred and 150 injured when a takfirit terrorist suicide bomber blew himself during the Namza-e-Zuhr congregation at a mosque near Police Lines in Peshawar on Monday.
According to sources, people were performing Zuhr prayer in the mosque when suddenly there was an explosion, the intensity of the explosion was very high, due to which the roof of the mosque collapsed and the glass windows were broken.
Rescue operations are underway to evacuate the people buried under the debris, emergency has been declared in all hospitals of Peshawar.
According to initial reports, the attacker entered the main gate of the police station and crossed three to four security lines to reach the mosque.
After the explosion, the main gate of the police station has been closed.
According to other sources, a suicide explosion has occurred in a mosque located in the police lines of Peshawar, as a result of which more than 50 officials were martyred while more than 150 people were injured.
According to the police, the Zuhr prayer was being offered in congregation in the mosque of Police Lines, during which the suicide bomber in the first row blew himself up, the sound of the explosion was heard far and wide.
The suicide blast caused the roof of the Police Line mosque to collapse, with several people still buried under the debris.
Law enforcement officials have cordoned off the area. Rescue personnel are engaged in relief activities, evacuating the injured from the mosque.
According to rescue sources, the injured are being shifted to Lady Reading Hospital.
According to hospital sources, the condition of 18 injured in the suicide blast is critical.
The management of Lady Reading Hospital has appealed to the citizens to donate blood.
According to police sources, SP Noor Zaman has been injured in the blast and has been shifted to CMH.