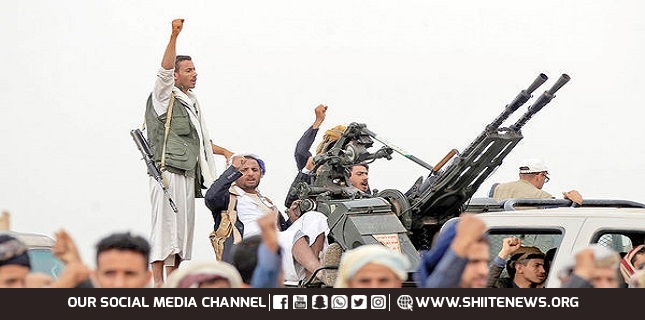 Yemen's Houthi Ansarullah resistance movement has praised the army's increasing gains in the campaign of defense against the Saudi-led coalition of invaders, saying Riyadh and its allies are left with no choice but to admit their failure and end the war.
In a tweet on Wednesday night, the movement's spokesman Mohammed Abdul-Salam wrote that the capabilities of the Yemeni armed forces, their air defense units in particular, are constantly evolving in the face of the Saudi-led aggression.
He hailed the recent downing of a US-made ScanEagle spy drone and a Chinese-made CH-4 combat drone as evidence confirming the progress of Yemen's air defense units.
"The enemy needs to realize that it has no choice but to take the initiative to announce a halt to the aggression and lift the siege," Abdul-Salam added.
The Yemeni Armed Forces regularly target positions inside Saudi Arabia in retaliation for the bloody war, which was launched in March 2015 with arms and logistics support from the US and several other Western countries.
The aim was to return to power the former Riyadh-backed regime and crush the Ansarullah movement, which has taken state affairs into its own hands in the absence of an effective government in Yemen.
The Saudi-led offensive has stopped well shy of all of its goals, despite killing tens of thousands of Yemeni civilians and turning the entirety of Yemen into the scene of the world's worst humanitarian crisis.
Yemeni forces have pledged to continue their retaliatory attacks on Saudi targets until the devastating war and crippling siege on their country come to an end.
Saudi airstrikes destroy more Yemeni homes
Meanwhile, the latest round of Saudi raids has damaged more homes and civilian properties in Yemen.
At dawn on Thursday, the Yemeni province of Sana'a was targeted with airstrikes launched by the Saudi-led coalition, as a result of which homes and properties of citizens in the al-Thawra district in the capital were damaged, Yemen's al-Masirah news network reported.
The coalition's warplanes also targeted the communications network in the al-Mahajar area in the Hamdan district as well as the Dhabwa area in the Sanhan district of Sana'a province.
Earlier, the Ansarullah movement reported 27 raids by the Saudi-led war coalition on the provinces of Ma'rib, Sa'ada, and Hudaydah.
According to a Yemeni security source, the coalition's warplanes stroke the districts of al-Juba and Sirwah in Ma'rib, hit the al-Fara' area in the Kitaf district in Sa'ada, and carried out a raid on the Hays district in Ma'rib.