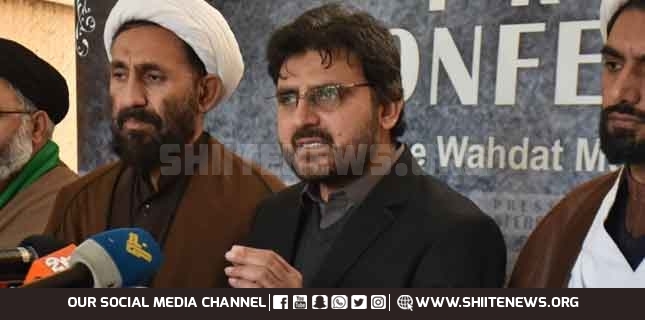 Nasir Shirazi slams PDM parties over unfair malicious campaign that apparently aims at seeking escape from accountability.
Majlis-e-Wahdat-e-Muslimeen (MWM) Pakistan's deputy secretary accused Pakistan Democratic Movement (PDM) parties' leaders of eyeing vested interests.
Nasir Shirazi slams PDM parties
He said that the PDM parties had ruled Pakistan in the past and had remained at each other's throat.
Nasir Shirazi further said that now the same parties have joined hands against incumbent government instead of serving people.
He said that people of Gilgit Baltistan also have rejected them in the recent election because they too know of actual goal of the PDM parties.
The MWM leader said that the PDM leaders solely aim to return to power, while escaping accountability during tenure of current government.
Meanwhile, he congratulated Barrister Khalid Khurshid over his election as Gilgit Baltistan Chief Minister.
Nasir Shirazi said that MWM's allied party PTI had assured them of executing many development projects to uplift the GB region.
However, he lamented that the PDM parties are not acting responsibly on the life and death issue of pandemic Coronavirus.
Instead of postposing their public rallies, MWM leader further lamented that the PDM parties are bringing people to political rallies.