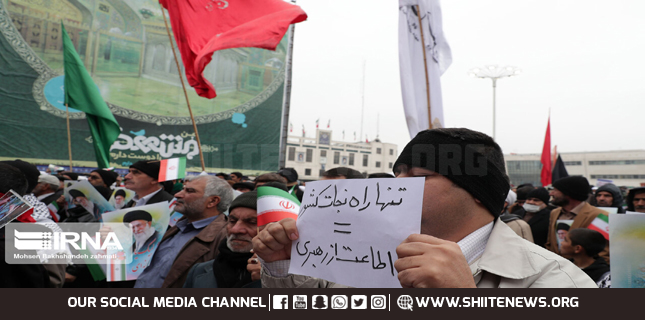 Iranians rallies disappoint Washington DC
Iranians rallies in support of regime disappoint Washington DC, according to IRGC.
The deputy commander of the Islamic Revolution Guards Corps (IRGC) noted disappointment in Washington DC.
US mad and dismayed
"Based on information we have received, the Americans have gone mad that the riots were over within 48 hours."
They are disappointed to see no more disorder in Iran," Brigadier General Ali Fadavi said on Friday.
Last Friday, the government raised Iran's extremely cheap gasoline prices in order to moderate the national consumption rate, which stands at 110 million liters per day, 40 million liters above the maximum domestic requirement.
The government also announced a number of aid and subsidiary programs to protect vulnerable households from the adverse affects of the measure.
The price reform, required by Iranian legislature and essential as US-imposed sanctions seek to deplete Iran's budgetary resources, had been long delayed due to concerns regarding the move's probable backlash.
The measure's adoption prompted initially peaceful protests, but riotous elements, abusing the situation, quickly entered the scene, destroying public property, setting ablaze banks and gas stations among other facilities, and opening fire on people and security forces.
Speaking on Friday, however, Fadavi said that in numerous calls with other IRGC officials in the country no further riot attempts had been reported.
Attacks on home and hospitals
"Attacking homes, shops, hospitals, banks and gas stations is a malicious act which is not an act of protest nor rioting, but an act of thievery," Fadavi said.
He cited this as the difference between protest and disorder.
The IRGC deputy commander considered peaceful protests as natural becuse of recent price hike. And that the government has to adopt additional measures to reduce pressure on the general population.
Iranians rallies disappoint Washington DC
Fadavi said that the malicious actors of the world are targeting Iran on issues which no means related to them.
Brigadier General Salar Abnoosh, a deputy head of Iran's Basij volunteer forces, said Friday "a full-fledged war" had been meant to be waged against the country. However, that quelled early on.
Abnoosh added that interrogations of arrested rioters had revealed that a "coalition of evil" made up of "Zionists, America and Saudi Arabia" had joined forces to organize destructive riots from abroad.
Ayatollah Khatami
Addressing worshipers during weekly Friday prayers in Tehran, senior Iranian cleric Ayatollah Ahmad Khatami also discussed it.
He said certain foreign countries had spent "three years. They were preparing for an opportunity to wreak havoc in Iran, training specific elements to that end.
"But their schemes were neutralized," he said.
He further said riots ceased despite huge spending of countries such as Saudi Arabia. That had provided much media coverage in order to instigate disorder.
Rallies against rioters across Iran
Following the Friday prayers, Iranians held numerous rallies across Iran to condemn the recent riots.
Moreover, the protesters condemned the US, Israel and seditionist elements for fueling the unrest. Notably, they chanted slogans in support of the Islamic establishment.
Iran Chief Justice
Addressing recent riots during a speech, Iran's Judiciary chief Ebrahim Raisi said those "who have abused to create disorder and insecurity" will face severe consequences.
"The Islamic Republic of Iran is known as the safest country in the region due to the sacrifices of our martyrs and our wounded," he said.
"We will never allow the smallest breach in the security of our people," he added.
Ayatollah Noori Hamadani sees huge foreign funding behind riots in Iran